About our St. Louis FIAT Dealership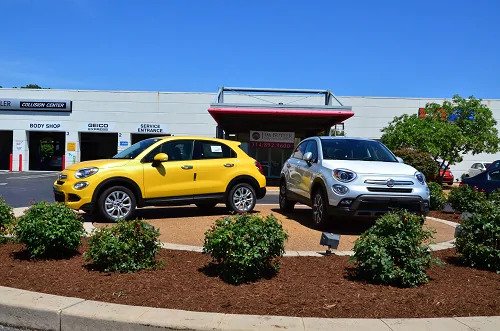 Welcome to Jim Butler FIAT, your St. Louis FIAT Dealer serving St. Louis and the Metro East!
Jim Butler FIAT has a passionate and knowledgeable sales staff with years of experience within the FIAT brand and serving St. Louis. The newest member of the Jim Butler Auto Group family is located in St. Louis, MO, and will help you locate the exact FIAT model that you want to drive home. We invite you to shop our inventory new FIATs in St. Louis along with our inventory of pre-owned SUVs, sedans and trucks in St. Louis. Stop in and visit us for a test drive. Our sales team can find you the new FIAT or pre-owned car you've been looking for.

The South County Fresh Start Program at Jim Butler FIAT gives advice and guaranteed approval to those looking for a FIAT car loan or lease. Our service doesn't stop at the sales desk. St. Louis-area customers can visit us and get help from our FIAT repair technicians.
Can't find what you want in our inventory listing? Use our Jim Butler FIAT CarFinder tool, and we can track down the exact make and model you want!
To discuss your options with and ask your questions to our friendly sales staff in-person, come visit us at 9900 Watson Rd., St. Louis, MO 63126. You can also reach Jim Butler FIAT any time by filling out an online contact form or calling us at 314-403-0845. We look forward to serving your St. Louis FIAT needs for many years!
Brad Sowers Bio
Brad M. Sowers
Co-Owner, President
Jim Butler Auto Group
Brad Sowers joined the Jim Butler Auto Group back in 2003. As a former technology sales and marketing executive, Brad entered the dealership business with a different perspective on automobile sales - one where technology could improve both the customer experience and internal company processes. That philosophy worked and continues to pay off.
A Business Leader
Under Brad's leadership, his team began a trend of exponential growth and expansion, during which annual revenue at Jim Butler Auto Group has grown 182% through vehicle sales and dealership acquisitions. Today, company revenue exceeds $350 million.
Today, Jim Butler Auto Group sells and services new and pre-owned vehicles nationwide through eight dealerships: Jim Butler Chevrolet, St. Louis' largest Chevrolet dealer and one of the top 15 dealers nationwide; Jim Butler Kia; Jim Butler Maserati; Jim Butler FIAT; Jim Butler-Linn Chevrolet; Jim Butler Alfa Romeo; Jim Butler Chrysler Dodge Jeep Ram; and Jim Butler Auto Plaza, dedicated to pre-owned sales. Each dealership has modern service centers and large pre-owned vehicle sales operations.
The company employs over 350 people at its St. Louis and Mid-Missouri area dealerships.
The Jim Butler team continually earns numerous awards for sales, quality and customer service, including:
• General Motors "Dealer of the Year" four years in a row (2015-2018)
• General Motors "Mark of Excellence": 2007-2019
• J.D. Power "Dealer of Excellence," 2018
A Technology Leader
A critical thinker by nature and schooling, Brad is always trying to gain more insights about the people he serves and works with. In 2018, he commissioned a study to learn consumer attitudes and behaviors towards automotive technologies to understand what drives them, what daunts them, and what they expect from a modern automotive relationship. Results of the study may be found here:
As a tech leader, Brad and his team broadened the company's use of online sales tools, which have allowed the company to sell and deliver cars to customers in 32 states. In 2018, the company opened advanced online storefront for its Kia brand.
An Industry Leader
Brad's reputation for success in the auto dealership business quickly spread among his peers nationally, earning him prestigious board and committee positions:
• He was one of only four dealers on the General Motors Dealer Executive Board from 2015-2016, where he represented the voice of dealers nationwide, giving input on the marketplace, customer needs and expectations
• In 2013 he was elected by his peers as co-chair of the National Chevrolet Dealer Council
• Current board member of Saint Louis Auto Dealer Association
Brad's Values and Philosophy
Brad always tries to find time to address any customer issues that have not been resolved through the normal channels.
"At Jim Butler Auto Group, we believe every customer is special and that they each have unique automotive needs. Our team matches the customer's needs with solutions. Every customer receives the special treatment that embraces their uniqueness. We do not 'cookie cutter' anything. We are the dealership for everyone." -- Brad Sowers
Giving Back to His Communities
Brad believes charitable giving is more than a good business practice - it's fundamental to how people make the world a better place. That's why Brad and his 350-plus employees make time to give the Three Ts -- time, talent and treasure -- to worthy causes locally and globally. In addition to supporting countless local sports teams and clubs, the Jim Butler Auto Group supports these important causes:
• Boys & Girls Clubs of Greater St. Louis;
• Making Strides Against Breast Cancer -STL;
• Bikes for Tykes;
• Healing Horses;
• Teen Safe Driving Pledge.
Background; Personal Info
A native of Indianapolis, Brad earned a Bachelor of Science in Business from Butler University in 1980. Working in the technology sector, Brad held a variety of executive positions. Brad is part of the Butler family, married to co-founder Jim Butler's oldest daughter, Michele. They live in the St. Louis area, and have twins preparing for college.
Feel free to reach out to Brad at his email, phone number, or twitter:
Phone: 636-349-8303
Twitter: @bms5562
Sales Hours
(314) 717-0073
| | |
| --- | --- |
| Monday | 9:00 am - 8:00 pm |
| Tuesday | 9:00 am - 6:00 pm |
| Wednesday | 9:00 am - 8:00 pm |
| Thursday | 9:00 am - 6:00 pm |
| Friday | 9:00 am - 8:00 pm |
| Saturday | 9:00 am - 6:00 pm |
| Sunday | Closed |
Service Hours
(314) 403-0845
| | |
| --- | --- |
| Monday | 8:00 am - 5:00 pm |
| Tuesday | 8:00 am - 5:00 pm |
| Wednesday | 8:00 am - 5:00 pm |
| Thursday | 8:00 am - 5:00 pm |
| Friday | 8:00 am - 5:00 pm |
| Saturday | Closed |
| Sunday | Closed |
Parts Hours
(314) 717-0932
| | |
| --- | --- |
| Monday | 8:00 am - 5:00 pm |
| Tuesday | 8:00 am - 5:00 pm |
| Wednesday | 8:00 am - 5:00 pm |
| Thursday | 8:00 am - 5:00 pm |
| Friday | 8:00 am - 5:00 pm |
| Saturday | Closed |
| Sunday | Closed |